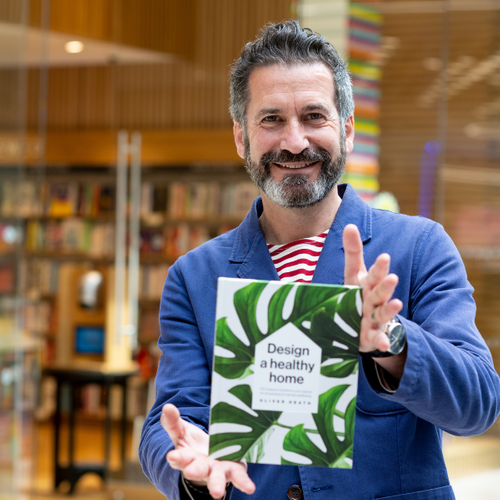 Oliver Heath
Founder
,
Oliver Heath Design Ltd
Oliver is the founder of Oliver Heath Design Ltd, an architectural and interior design practice focussed on delivering health & wellbeing in the built environment through evidenced based, human centred design. Oliver's work stimulates the adoption of happier, healthier places to live and work through his practice's approach as researchers, designers, and advocates for Biophilic Design – benefiting both people and planet.
Since 1998 he has presented on numerous television channels for shows such as BBC Changing Rooms and BBC DIY SOS, ITV and Channel 4. He frequently acts as a media spokesperson for the UK's Department for Energy and Climate Change (DECC), WRAP and the Energy Saving Trust.
Design clients include champions of sustainable business practice including Schneider Electric, Interface, Booking.Com, Bloomberg, Deutsche Bank, Dulux, Interface, Unilever, B&Q, Bio Regional, and ING Real Estate, as well as designing products for the likes of John Lewis, Pilkington Glass and Earthborn paints.
Oliver is the author of 4 books, most recently Design A Healthy Home for Dorling Kindersley as well as writing regularly for the Guardian, Grand Designs magazine, and House Beautiful.
Oliver is a qualified Domestic Energy Assessor and is passionate about sustainable design. His human centred Biophilic Design approach seeks to reduce stress by strengthening the human connection with nature to improve health and well-being in the many spaces we live and work in. Over the last 10 years he has presented in excess of 400 RIBA certified CPD seminars and workshops alongside knowledge partners Interface, on the subject to architects, designers and building stakeholders around the world. His design practice's work focusses on research, thought leadership, design and advocacy to support the creation of a healthy and sustainable built environment.
Oliver lives in Brighton with his wife, 2 children and pets. He loves nothing more than spending time outside, paddle boarding, running, surfing and camping with his friends and family.
For more information please see: www.oliverheathdesign.com
Twitter: Oliver_Heath
Instagram: oliverheathdesign