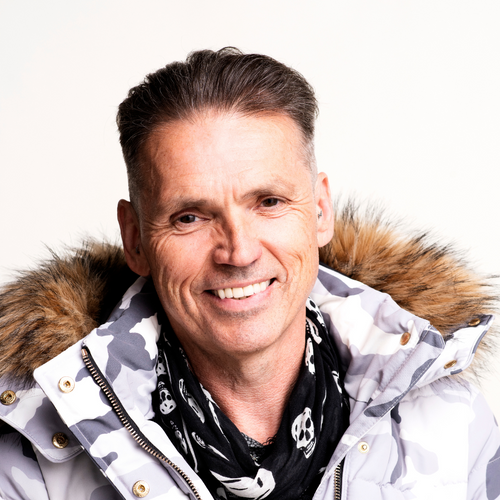 Dale Vince
Founder of Ecotricity
,
Ecotricity
Dale Vince OBE is the founder of Ecotricity and a United Nations Climate Champion. Born in Great Yarmouth, Norfolk, in 1961, he left school at 15 with no qualifications and spent the next decade living on the road in a variety of unusual vehicles.

In the late eighties he began to visit Glastonbury, picking up work towing broken down vehicles. He came up with the idea of setting up a pitch, Windphones, selling phone calls to the festival goers. He thought mobile phones would be perfect for the job but they needed charging – and decided to use a windmill.

He built that first system using an old electricity pylon, a 1kW machine from the USA and some old train batteries from a scrapyard in Stroud. Windphones was a great success at Glastonbury for several years and really captured the imagination of the festival crowd.
In 1991, Dale was parked on a hill near Stroud, using a small windmill to power his everyday life. He was thinking a lot about climate change and believed the single biggest cause in Britain was the way electricity was made. Renewable energy needed to become mainstream.

As he looked down at the lights from the homes and buildings below him, he had an epiphany – he could spend another ten years living a low-impact life himself, or he could drop back in and try to build a big windmill on the hill.

That didn't happen overnight. There was a lot of research and lot of work to do, to turn the idea into reality. In 1995, he was on the verge of building that first windmill when a major problem reared its head – getting a fair price for the electricity he was going to be generating.
Having been laughed out of the offices of one of the big energy companies of the day – Who on earth would want renewable energy? – Dale set about creating his own energy company based on a pioneering local supply model. Dale called it Embedded Supply and it meant using the local grid to match local customers to local generation, something that had never been done before.

Ecotricity was born, and we delivered green electricity generated using local landfill gas to our first customer on 1 April 1996. In the background, Dale was also at work building our first windmill. Its arms started turning in December of the same year – in a field near Stroud – and it's been generating power ever since.

As the 20th century drew to a close, Ecotricity was firing on all cylinders, securing big business contracts with customers like Thames Water, the Millennium Dome and The Body Shop – despite the fact Dale was still only employing 15 people!

It was a time of green enlightenment for many and Sainsbury's was the first supermarket to embrace renewable power in Britain – we built the company its own on-site turbine at its distribution centre in Glasgow. This Merchant Wind Power deal was followed by a partnership with Ford; Ecotricity have been powering the production of all Ford diesel cars and vans for nearly 20 years now.

2003 was a bit of a milestone year – we started supplying customers' homes for the first time. The early 2000s was a time of growth; Ecotricity was powering more homes with green electricity and using its customers' money to turn bills into mills.

In 2010, we launched green gas, making us the first energy company to offer a truly green dual fuel tariff and in 2013 we followed that up with 100% green electricity for all customers. By the end of 2014, Ecotricity was powering over 150,000 customers and providing the best customer service in the industry.