18 Apr 2023
What's Your #WhatOneThing?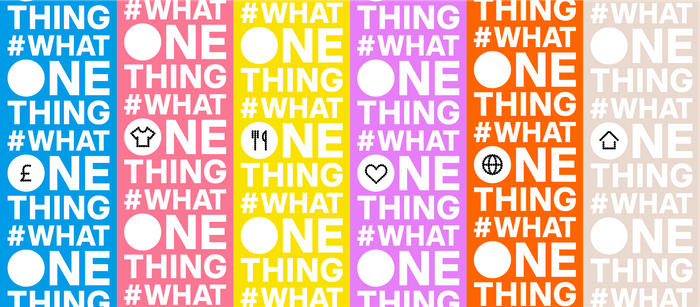 Are you looking to become a more sustainable consumer but don't know where to start? 
We believe that small changes can make a big impact, and we're on a mission to inspire others to make sustainable choices in their everyday lives.
That's why this year we're all about #WhatOneThing.We want to know what tips, hacks, buys, and swaps you love and that really work.
And what frustrates you or don't you understand when it comes to the climate?
Whether it's using reusable shopping bags or reducing your meat intake, we want to know what small changes have made a big impact in your daily life.
We aim to create a community of sustainable consumers who can share their knowledge and inspire others to make a difference.
We want to showcase the positive impact that small changes can have on the environment and encourage everyone to make changes in their own lives. So with that being said…
#WhatOneThing...do you want to know more about to help the planet?
#WhatOneThing...have you swapped to reduce your plastic or carbon?
#WhatOneThing...is a challenge that you want to get on top of to be greener?
By banding together and sharing our #WhatOneThing, we can help others learn about easy and accessible ways to live a more eco-friendly lifestyle.
To participate in the campaign, simply share your #WhatOneThing online or on social media, and don't forget to tag us!

We'll be sharing some of our favorite submissions on our socials and at our Manchester and London shows, so be sure to follow us and stay tuned for inspiration and ideas.
Plus, by participating in the campaign, you'll be entered into a chance to win a goodie bag, filled with eco-friendly products to help you on your journey to putting the planet first.
Join us in making a difference and sharing your #WhatOneThing today!

Be sure to follow us on Instagram, Facebook, Twitter, and LinkedIn, and don't forget to get your FREE tickets to our Manchester or London shows today!