06 Feb 2023
Meet our Good Advisors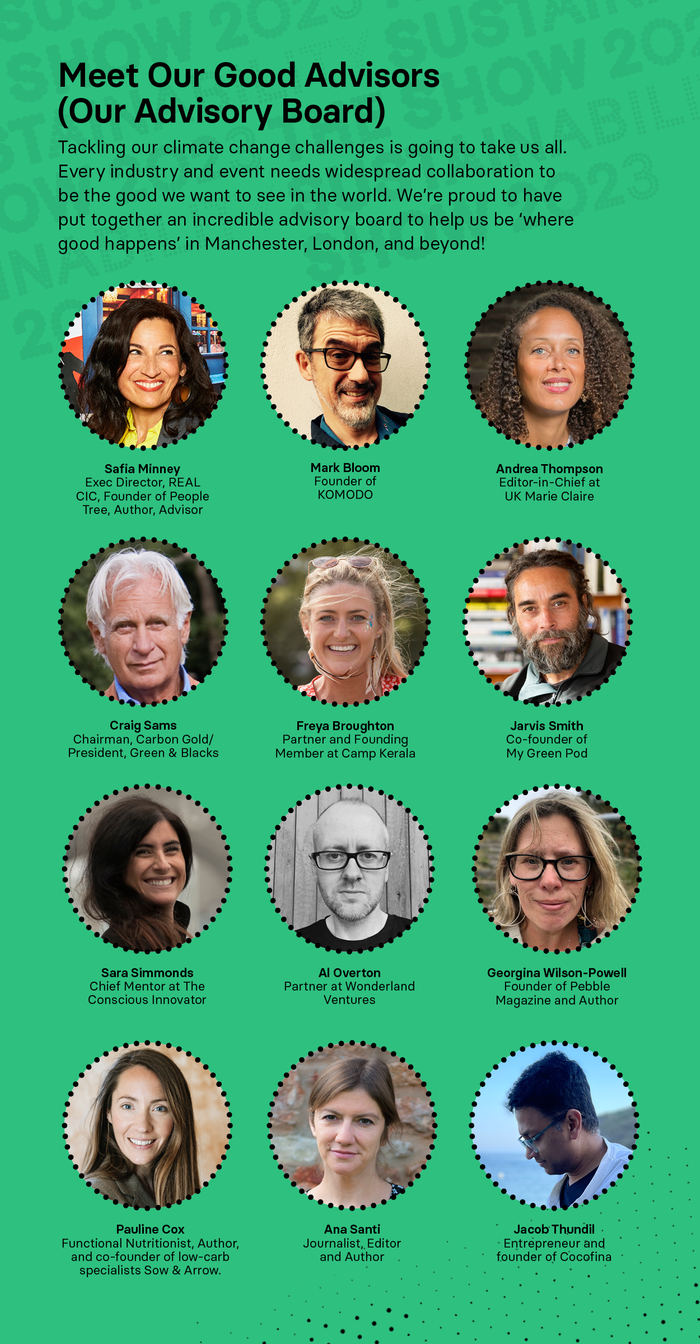 We're kicking off an exciting year for The Sustainability Show by announcing our new Advisory Board – made up of 12 Good Advisors with decades of sustainable experience between them. Let's meet them.
Al Overton
Al qualified as a Medical Herbalist in 1999 and has been involved in the health & wellbeing sector ever since. He headed up the buying function at Planet Organic from 2012 to 2022, evolving them from an organic focused supermarket to a retail leader at the forefront of wellbeing innovation and new health foods. He also supervised Planet Organic's own label development and drove their sustainability agenda around plastic free packaging, refill concepts and food waste.
Al now works as a strategy and growth consultant helping small brands survive and thrive across multiple markets and sectors. He passionately believes that the way to create change is through inspiration, and that is it down to businesses, brands and thought leaders to excite and delight us all into eating well and living well.
Ana Santi
Ana is a journalist, editor and author. She writes across a range of subjects, including sustainability, activism, fashion and business. Ana's work has been featured in publications such as The Times and the Guardian and she has been a commentator for the BBC, Sky News and Woman's Hour. She is the author and editor of two books: Three Things to Help Heal the Planet (essays on how to tackle the climate crisis with collective action) and Comfort Zones (a collection of original stories by women writers in aid of Women for Women International).
Andrea Thomson
Andrea is the content director across all platforms at Marie Claire UK. She also works on commercial partnerships, events, charity campaigns, and Marie Claire's @work franchise including the annual Future Shapers.

She has over 17 years journalism experience as an editor and writer across print, TV and digital media, and have held senior staff positions at the Daily Mail and Grazia, and freelanced for The Sunday Times, Guardian, Mail on Sunday and Channel 4.
Craig Sams

Craig Sams was born on a farm in Nebraska. In 1967 he and his brother Gregory founded Whole Earth Foods, expanding from Seed, an organic macrobiotic restaurant into retail, wholesaling and manufacturing. They published "Seed Magazine - The Journal of Organic Living" from 1971-1977.
In 1991, in partnership with Josephine Fairley, founded Green & Black's Organic Chocolate, the first product to carry the Fairtrade Mark. He is President of Green & Black's, acquired by Cadbury's in 2005 and subsequently by Kraft in 2010. He is a director of Duchy Originals, Soil Association Certification, Carbon Gold And Larry Smart Art.
He is the author of About Macrobiotics, The Brown Rice Cookbook, The Little Food Book and The Story of Green & Black's. He also founded Carbon Gold in 2008 to establish biochar as a means to restore degraded soils, enhance organic farming and sequester carbon dioxide to reverse climate change
Freya Broughton
Freya has a wealth of experience in the health industry from the inside, having suffered with a range of medical conditions all her life. It wasn't until she started looking at her gut, diet and environment did her health improve at the age of 31. She is on a mission to make the information that helped her more accessible to everyone.
She is also a part of Camp Kerala, who set up beautiful, luxury campsites at festivals and events world-wide.
Georgina Wilson-Powell
Having founded and run pebble, the sustainable living digital magazine and events company, which reached over 5 million people, Georgina is the expert when it comes to spotting sustainable trends, consumer behaviours and brand strategies that avoid greenwashing. After working for 20 years in the media industry she now works for a range of agencies as a consultant on sustainability and is The Sustainability Show's Programme Director.
She is the author of three books on sustainability for everyday people. The latest - 365 Ways To Save The Planet - is out March 23 on DK Books, as well as a sustainable travel charity trustee and a judge at many sustainable awards, including the Global Good Awards and Sustainable Wedding Awards.
Jacob Thundil
Jacob Thundil is a London based entrepreneur. He is passionate about sustainability, healthy food and cooking. In 2005 Jacob founded Cocofina "The Coconut Experts' from his kitchen table while working for his former employer. Consumer demand for Cocofina products was overwhelming and is now enjoyed in 28 countries worldwide.
During lockdown Jacob started two more food businesses. Sozye, who brew organic certified soya, fish and oyster sauce alternatives in the UK using sustainable Scottish seaweed instead of Soya and a Moxcha a fully dissolving patent pending tea product.
In 2021 he was bestowed with an MBE for services to International Trade. Other interests include cooking, music, antiques and inventing.
Jarvis Smith
Jarvis is the co-founder of My Green Pod, the guardian's quarterly supplement, now the UK's largest ethical lifestyle magazine distributed to over 7million conscious citizens (in print & digital formats) and www.mygreenpod.com the online platform celebrating green living, daily ethical news, best in class HERO products and an ethical marketplace.

Jarvis is also founder and host of the country's leading sustainability Awards: P.E.A (People. Environment. Achievement.) Awards now in its 12th year. He created long term partnerships with leading ethical companies including Citrix, Yeo Valley, Deloitte, Triodos Bank, Interface and Octopus Energy to name but a few.
Mark Bloom
Mark founded KOMODO in 1988 after travelling to Bali and being attracted to the fashion and skills there. The KOMODO ethos was rooted in the spirit of co-operation between the handicraft skills and techniques of the people making the clothes combined with our quest for flamboyant fashion for clubbers that was like nothing else they could buy at the time.
KOMODO grew quickly, and alongside producing well-made eco fashion, they became famous for putting on legendary parties all over the world. The clothes were worn by people like Jay Kay from Jamiroquoi and Bjork, and we were recognised and profiled by magazines such as The Face, making the brand develop rapidly. The sustainable aspect of the brand is something that remains crucial to KOMODO's DNA and they are proud to be a pioneer of eco fashion and continue to learn and develop their methods and knowledge to remain at the forefront of ethical fashion whilst still being affordable.
Pauline Cox MSc
Pauline is a Functional Nutritionist, author and co-founder of low carb specialists Sow & Arrow.
With a passion for integrating ancient wisdom with modern medicine, Pauline has extensive knowledge in human science and alternative medicine. Having studied for her first Bachelor of Science in Anatomical Science at University of Bristol, Pauline went on to study Physiotherapy at University of West of England. Following a career in Physiotherapy, specialising in musculoskeletal pain and women's health, Pauline went on to study for a Masters at University of Bristol in Nutrition, Physical Activity and Public Health.
Her most recent Master level training is in Integrative Medicine.
As a speaker, author and passionate advocate for natural medicine, Pauline enjoys translating complex science into easy to understand, practical information that empowers people to take their health into their own hands.
Safia Minney
Safia is an award-winning social entrepreneur & internationally recognised for the company she founded, People Tree, the pioneer of sustainable fashion and food. She led the business as Global CEO for 20+ years in Japan & UK. She left her operational role at People Tree at the end of 2015.

She is a speaker, author, advisor, consultant and executive coach, and trustee with The Countryside Charity (CPRE) and advisor with Business Declares.

Safia launched and leads Fashion Declares in 2022, with leaders from FARFETCH, Reformation, Continental Clothing and others. Fashion Declares is a grassroots movement bringing together people at all levels within the fashion industry to tackle the current climate, ecological and social emergency. She is the author of 7 books including, 'Slave to Fashion' campaigning to eradicate modern day slavery. 'By Hand'; 'Naked Fashion - The Sustainable Revolution'; and 'Slow Fashion - Aesthetics meets Ethics' and 'Regenerative Fashion'.
Sara Simmonds
Sara is a conscious innovator, an expert in how to buy consciously, an impact entrepreneur, and a transformational mentor. Her list of accomplishments include pioneering the world's first 100% sustainable luxury denim brand and being the recipient of Grazia magazine's award for sustainable entrepreneur of the year.