Enagic
Health & Beauty
Home & Garden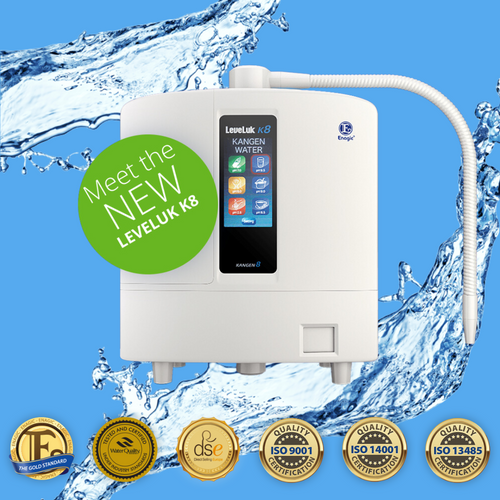 Kangen means 'return to origin', so let's talk about ours..
Enagic opened in 1974 after researching blue water zones, where people live the longest and are healthiest, typically living to be 100 years old. There are only 5 blue zones in the world, one of which can be found in Okinawa, Japan, where our company was founded. Through research, they determined what makes the water in these zones so special, and began manufacturing water ionisation systems that transform regular tap water into pure, healthy, electrolytically-reduced and hydrogen-rich drinking water.
Our philosophy 'True Health to the World' is quite fitting as the water ioniser was first introduced to Japanese hospitals after Enagic got approved by The Japanese Ministry of Health and Welfare as a medical equipment manufacturer. 11 years later they began to share this incredible product with the rest of the world. We want true health for all, from our own bodies to the world around us.
Enagic is also approved by the Japanese Association of Preventative Medicine for Adult Diseases. Over 6,500 Doctors have tested Enagic water life science devices in clinical applications with their patients.
Without protecting the environment, a healthy, comfortable life for people cannot be achieved. It is thus crucial to be aware of the environment and to contribute to its preservation. For this reason, the Enagic Group has adopted the philosophy, "True Health to the World", under which we provide products that contribute to people's health and improvement of the global environment. As a member of civil society, we continuously work on compliance and improvement in quality, considering the needs of the environment and safety for the next generation.
________________
KEY SUSTAINABILITY POINTS
Can reduce plastic waste of the average UK household (2.4 people) of up to 5316 per year!
We work to secure materials with a low environmental load.
We work to reduce, reuse and recycle.
We work to conserve natural resources and achieve energy-saving efficiency in order to prevent global warming.
We seek continuous improvement, setting environmental goals and objectives, upon which regular reports are delivered.
Enagic is an OEM - Original Equipment Manufacturer, meaning the majority is done in house. Their machines are made from the highest quality materials (medical grade titanium) on the inside, and last for up to 25 years.
Enagic International is certified to ISO 9001, ISO 14001 and ISO 13485 for quality control and environmental management, and the Water Quality Gold Seal for production certification.
Throughout the manufacturing process the company works to conserve natural resources and achieve energy-saving efficiency in order to prevent global warming. Regular checks and reports are done to ensure we are meeting our environmental goals.
Enagic's ionisers are the only ones that produce hypochlorous acid which has proven effective in killing 99.99% of germs and bacteria, including Staphylococcus, E.coli, Salmonella, MRSA infections and diabetic ulcers. This eliminates the need for chemical cleaning sprays, another cause of plastic pollution and damage to the environment!
Address
4 Adelante Close
Bristol
BS34 8RT
United Kingdom