12 Jun 2023
Fred's Catnip Farm launches at The Sustainability Show!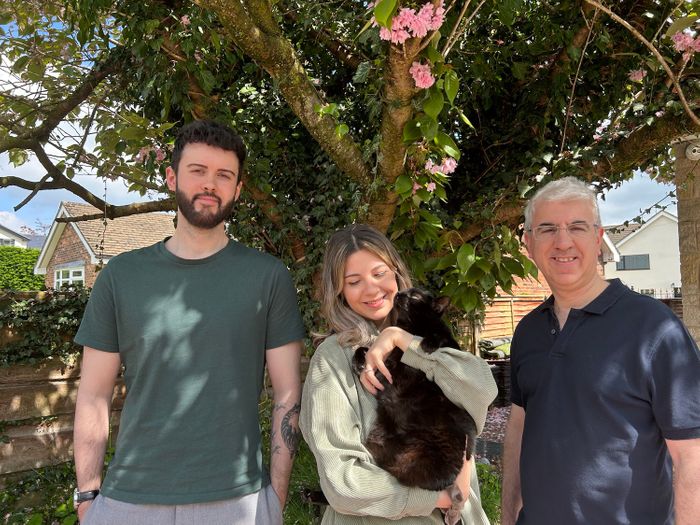 An exciting range of eco friendly products for cats!
Fred's Catnip Farm has recently been acquired from its previous Irish family owners, and under new ownership is delighted to celebrate its eco-heritage and expand its product range.
The founders of the family-run business are recently engaged Chester-based couple Laura Leigh and Andrew Mcvicar, alongside Laura's father Brandon Leigh – a well-known figure in the Manchester business and third sector networks.
From Nervous Rescue to Cheshire Cat
At the heart of the business is Laura's own experience rescuing a cat (Wispa) from her local animal sanctuary, which inspired her to launch an eco-friendly brand for premium cat care. Laura comments:
"Wispa was found on the streets underweight, anxious and covered in fleas. Naturally, I took her home to safety and pampered her with love, treats and toys!
However, I became increasingly aware of the lack of quality pet products on the market. Shelves were stacked with luminous plastic toys and toxic packaging, all of which contain harmful chemicals.
Our company has been set up to ensure the quality and care that your pets deserve, whilst protecting our one and only natural planet."
Organic Catnip
Fred's Catnip Farm is thrilled to present their latest eco-friendly cat products available at www.fredscatnipfarm.com.
Catnip, the focal point of the brand, offers many natural benefits for felines. It:
Encourages playtime activity.
Relieves stress and boosts mood.
Supports health, from skin to digestion.
…and even acts as an insect repellent!
Fred's catnip is organically grown from the plant Nepeta Cataria in the French countryside, which guarantees high quality freshness. This catnip is extra strong – oozing with aromatic essential oils from the healthiest flower bells, hand-picked by their expert herbalists.
Unlike the common 'sawdust' catnip that crushes its flower bells, Fred's catnip delicately processes its ingredients to ensure that they retain their maximum essential oil content, for optimum potency!
When ingested, the nepetalactone oil in catnip acts as a relaxant, which helps to calm down anxious cats. When inhaled, the oil acts as a stimulant, urging cats to play and exercise.
The Product Range
Fred's Catnip Farm sells the following products:
Catnip Sacks (small or large) made with a secure cotton drawstring bag, filled to the brim with the finest catnip blend and buckwheat hulls.
Catnip Teabags (5 or 10 bags), for a no-mess alternative to Afternoon Catnip Tea! Simply brew the teabag in boiling water for 5-7minutes, cool and serve.
Catnip Pouches hand crafted and made in Kenya in partnership with Kenana Knitters, who provide fair, sustainable and flexible employment for women in rural Kenya.
Organic Dried Catnip (loose) in a range of sizes: 20g, 50g, 100g and 200g. It's a premium mixture of pure catnip leaves, flowers, young stems and a high bell content, which bursts with the potency that your cat craves.
To complement the certified organic catnip, Fred's Catnip Farm uses sustainable packaging: all materials used are fully biodegradable and/or recyclable. They also sell directly to consumers, which eliminates unnecessary transport costs to and from retailers.
A Sustainability Pledge
As founders of the business and in their early 20s, Laura and Andrew have an absolute passion for ensuring their brand is eco-friendly and actively contributes to global sustainability goals. In prioritising sustainability in every aspect of their business, the founders strive to always follow principles of The Circular Economy: specifically, tackling waste reduction and promoting the recycling of materials. They pledge to:
Use sustainable materials – such as recycled paper for packaging, organic cotton for toys and biodegradable materials wherever possible. The founders also pledge to source their materials from suppliers that prioritise environmental responsibility and sustainability.
Only use organic catnip – that is certified, non-toxic and naturally biodegradable. Once the herb's life span has ended, it can be broken down by natural processes in the environment. Organic farming is also a sustainable practice that typically requires low energy and minimised greenhouse gas emissions, which enables a reduced carbon footprint. Its use of natural fertilisers and crop rotation maintains soil health, which improves its quality and promotes biodiversity.
Reduce waste – throughout the product life cycle, from design to disposal. Minimising waste includes designing products for recycling, implementing waste reduction strategies during production and using biodegradable packaging. A direct-to-consumer approach also cuts unnecessary transport costs from involving retailers.
Promote responsible sourcing – using suppliers that certifiably meet sustainability criteria, such as responsible forestry practices.
Educate their customers – about the environmental impact of their products and how to use them in a sustainable way.
Strive for continuous improvement – by seeking regular customer feedback and through keeping up to date with new technologies.
Laura, Andrew and Brandon thank you for joining them on their journey towards sustainability and for supporting their mission: to create eco-friendly cat products that ensure quality for both our feline friends and the planet as a whole.
For further information email info@catnosebest.com or telephone Brandon on 07973 697186 or Laura on 07772 365754.