03 Apr 2023
Not All Collagen is Created Equally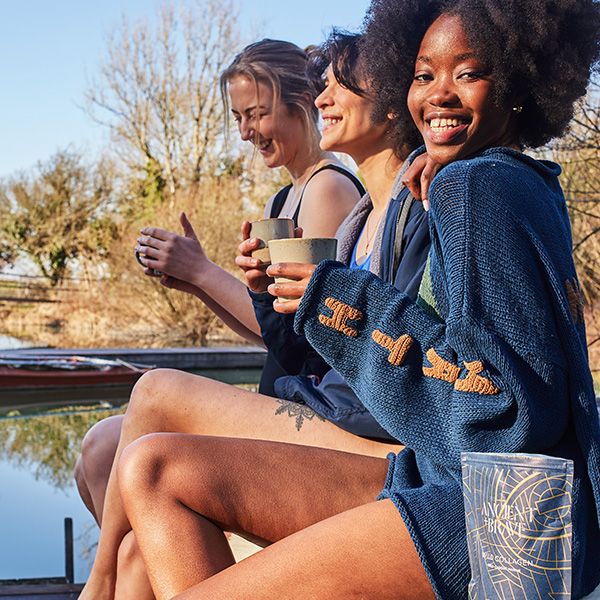 An integral part of our business is sustainability. Sustainability in businesses is crucial for the long-term health of the planet and is something we do not compromise on. We never stop in our mission to continually improve our environmental performance.
In 2020 Ancient + Brave were certified as one the highest scoring B Corps in the world. Adding to our credentials as being certified Carbon Neutral and a member of the global business initiative 1% for the Planet. These are all organisations we are proud to partner with and feel passionately about.
Ancient + Brave only sources the best ingredients from environmentally conscious, sustainable suppliers.
True Collagen
Our True Collagen is derived from cattle in the EU and is manufactured in the EU. The collagen peptides are produced from raw materials that are exclusively sourced and originate from healthy animals. The cows have been raised naturally and follow a predominantly grass-fed diet.
Collagen peptides are a natural by-product of bovine contributing to the whole use of the bovine and recapturing what would otherwise be 'waste' as a resource to manufacture new products. This therefore gives sustainable added value to farmers within the EU and contributes to a circular economy.
Animal welfare remains a high priority and we work with leading partners who are committed to supporting all reasonable measures aimed at improving animal welfare. Our manufacturing partners are members of the Gelatine Manufacturers of Europe (GME) and together we support strict enforcement of the comprehensive EU animal welfare legislation. The stricter deforestation and animal welfare legislations in the EU are driving points behind our EU focused supply chain.
Rainforest Concern
As part of our contribution to 1% For The Planet, we are a corporate partner of Rainforest Concern. This means that we do make conscious efforts to support the protection of rainforests and natural habitats and contribute to aiding research that helps steer the conservation approach and provide in depth understandings of the rainforest.
Wild Collagen
We spent three years searching to bring you the very best quality, neutral-tasting marine collagen. Our Wild Collagen is highly bioavailable, Type I hydrolysed collagen peptides that are sourced from the skin of wild caught North Atlantic white fish.
This, again, is a natural by-product of the food industry that would otherwise be discarded as waste. Wild caught fish are more likely to have a better nutrient profile compared with farmed fish thanks to their natural diets and active lifestyle. Farmed fish are often fed grains or pellets and are kept in small enclosures which can mean that they are at greater risk of lice and bacteria so are often treated with antibiotics and in some cases, hormones. This has an impact on consumers' health when ingesting these compounds.
Our fish are wild caught, free from hormones and antibiotics. Our Wild Collagen is certified by the Marine Stewardship Council (MSC). This is a robust certification programme carried out by independent certification bodies to monitor wild-capture fisheries and certified businesses' supply chains to ensure that international best practice for sustainable fishing is met and that resources and livelihoods can be sustained for future generations.
Our Pledge
This all contributes Ancient + Brave's pledge of sourcing the purest ingredients and producing the best products whilst doing as little harm to the planet as possible.
Being a certified B Corp means that we do hold ourselves accountable to the highest standards of third-party verified performance, so you know that you are investing in a truly sustainable product and a brand you can trust.
When deciding which brand of collagen to buy, it is important to remember that not all collagen is created equally.
See here for further details on Ancient + Brave's commitment to sustainability.